Xurpas Inc. is a trusted, publicly listed technology company with twenty years of experience. We focus on helping our customers by offering digital transformation services including website and mobile app development, software solutions for enterprise resource planning and HRIS, IT staff augmentation, digital marketing services, and more.
We are here to build technologies for the future.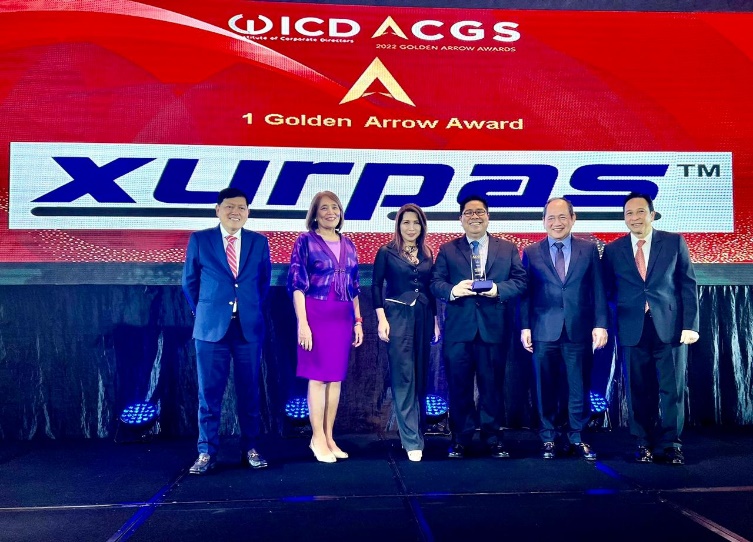 XURPAS RECEIVES A GOLDEN ARROW AWARD FOR CORPORATE GOVERNANCE
Xurpas Inc., a publicly-listed company specializing in digital products and services, received the prestigious Golden Arrow Award from the Institute of Corporate Directors (ICD) on January 20, 2023 at the Sheraton Manila Hotel. The award, which recognizes outstanding publicly-listed companies in terms of corporate governance, was accepted by Alexander Corpuz, Xurpas' President, and Imelda Tiongson, Xurpas' Independent Director and Chairperson of its Corporate Governance Committee.
The award is a testament to Xurpas' commitment to corporate governance and its dedication to safeguarding the interests of its various stakeholders. From the time Xurpas first listed on the Philippine Stock Exchange (PSE) in 2014, it has taken guidance from its legal counsel on the observance of corporate governance standards set by the Securities and Exchange Commission (SEC). The SEC also spearheaded the enactment of the law in 2019, revising our Corporation Code. Its progressive provisions included among others, further promoting good corporate governance, which Xurpas embraced by electing a corporate governance champion and ICD trustee as one of its independent directors. Over the years, Xurpas has benefited from various ICD and SEC-sponsored corporate governance seminars, which has enabled it to incorporate and implement good governance in its processes. Xurpas' Board and Management thank these individuals, teams, and institutions for guiding them in their corporate governance journey.
The ASEAN Corporate Governance Scorecard (ACGS) is a tool that assesses the corporate governance practices of publicly-listed companies in the Association of Southeast Asian Nations (ASEAN) region. The scorecard is designed to encourage companies to improve their corporate governance practices and to promote transparency and accountability. It covers various areas such as responsibilities of the board, rights of shareholders, ownership structure, risk management, and disclosure and transparency. The ACGS is used by investors, regulators, and other stakeholders to evaluate the corporate governance practices of ASEAN companies.